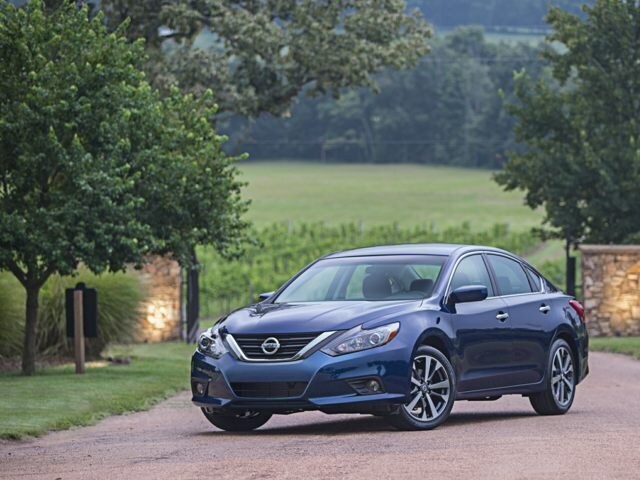 What if I were to tell you that there there is an award winning Nissan Dealership just a short drive away from Eagle Lake. Mankato Motors was voted the best new and used car dealership in Mankato, and that is something to truly be proud of. They would like to share their love of the vehicles that the are proud to sell with you the next time you are shopping for a new or used vehicle. Take the short drive to their lot and see all that they have to offer from financing to sales and service. Mankato Motors, where it is always worth the short drive from Eagle Lake.
Nissan Rogue Near Eagle Lake, MN
If you have a bit of an adventurous side, the Nissan Rogue is the perfect vehicle for you. This compact SUV truly packs a punch where it counts, without taking a major bite out of your wallet. When you combine an MSRP starting price of around $23,820 with an exceptional fuel economy of an EPA estimated 26 mpg city and 33 mpg highway, you have the perfect vehicle for the person or family on the go. Test drive this automotive game changer with the friendly, knowledgeable staff of Mankato Motors and get out on the road to your next big adventure in the Nissan Rogue.
Nissan Pathfinder Near Eagle Lake, MN
If compact isn't in your vernacular when it comes to purchasing an SUV, the Pathfinder gives you more than the competition. This vehicle is perfectly at home wherever you call home. City, country, or anywhere in between, the pathfinder doesn't skimp when it comes to economy, performance, or handling. See why the Pathfinder is a great choice for your next new vehicle with the amazing staff of Mankato Motors the next time you are in the market for a new or used Nissan Pathfinder.
Nissan Altima Near Eagle Lake, MN
For those of you that perfect the handling and economy of a mid-sized car to the bulk and height of an SUV, the Nissan Altima is an excellent alternative. This car gives you the same great Nissan styling, while maintaining strong ties to its car roots. Experience great EPA estimated fuel economy of 27 mpg city and a whopping 39 mpg highway. This all comes with a highly affordable MSRP starting price of around $22,500. See the Altima in all of its great trim packages on the lot of Mankato Motors and drive away happy in your new 2017 Nissan Altima.
Other Nissan Near Eagle Lake, MN
Nissan Versa
Nissan Sentra
Nissan Cube
Nissan Maxima
Nissan Murano
Nissan Juke
Nissan Xterra
Nissan Armada
Nissan Frontier
Nissan Quest
Nissan Titan
Mankato Motors Also Offers