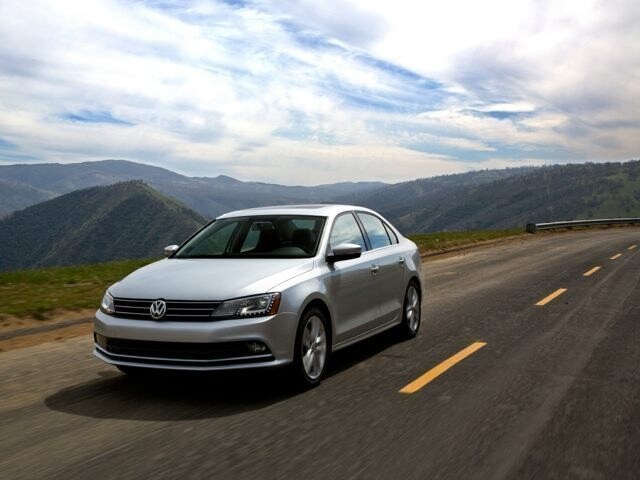 If you are hungry for a great deal on a fun to drive, affordable, and incredibly stylish car or SUV, then you need to check out the 2017 lineup of Volkswagen vehicles on the lot of Mankato Motors. No one beats Mankato Motors when it comes to service, selection, and unbeatable pricing near Eagle Lake. No matter if your budget is big or small, you can find something here that will meet your needs and exceed your expectations. At Mankato Motors, we are more than empty promises, we backup our word with brand promises right out there in the open; so you know that we mean business. Come see what your friends, family, and neighbors already know, Mankato Motors, your home for Volkswagen vehicles near Eagle Lake.
Volkswagen Jetta Near Eagle Lake, MN
Who hasn't dreamed of owning a Volkswagen Jetta? There is a reason that these compact cars are everywhere today. The Jetta is affordable has an MSRP starting price of around $17,895; roomy seating for up to five, and is sporty with an available 210 horsepower. There truly is something for anyone that loves to drive in this great car. Your new Jetta may be closer than you think. Schedule your test drive today with the Volkswagen experts at Mankato Motors. You are going to love this place, and love this car guaranteed.
Volkswagen Passat Near Eagle Lake, MN
When life demands a little more legroom, a mid-sized sedan is the only way to go if you love cars. If you know cars, you already know that the 2017 Volkswagen Passat gives you an affordable option with the top notch German engineering that comes with every vehicle that rolls off the lot when your new car is a Volkswagen. Filled with great standard features, plenty of optional features to make your new Passat a reflection of your personality, and an affordable starting price to match. If you have never looked into a Passat, there is no better time than now and no better place than Mankato Motors of Mankato Minnesota.
Volkswagen Atlas Near Eagle Lake, MN
When it comes to full sized SUV's, you probably have seen pretty much everything there is out there on the market. Sure, seating is great, but handling suffers for many makes and models out there today. If you are tired of not getting the performance and handling that life on the road demands, then let us show you something better. The 2018 Volkswagen Atlas is dressed to impress, and has an MSRP starting price of $30,500 that won't break the bank either. Come see what America's best transferable bumper to bumper warranty looks like in person. Mankato Motors, your home for the 2018 Volkswagen Atlas near Eagle Lake.
Other Volkswagen Near Eagle Lake, MN
Volkswagen Beetle
Volkswagen CC
Volkswagen Golf
Volkswagen Golf Alltrack
Volkswagen Golf GTI
Volkswagen Golf R
Volkswagen Sportwagen
Volkswagen Tiguan
Volkswagen Touareg
Mankato Motors Also Offers