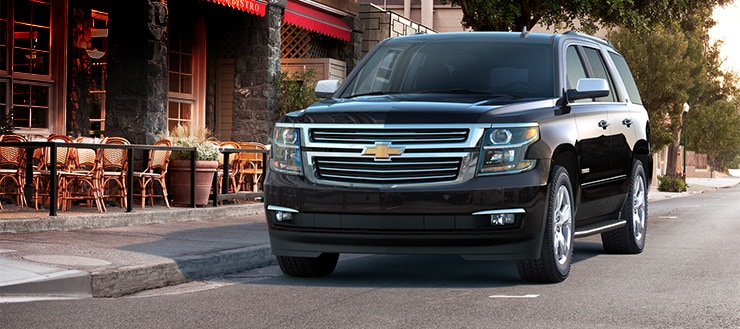 The time and energy that goes into the search and negotiation of buying a car can deter many people from starting their search. Mankato Chevrolet near Faribault is the answer to your prayers! Take the frustration out of the process by working with our staff, who has already negotiated the price of our vehicles, to ensure you get the best deal. The finance process can be completed in just seconds so that you can focus on choosing a vehicle to fit your wants and needs. We will continue to be here to help you maintain your vehicle year after year. Visit us online or in person today!
Your Family's Next SUV
The three rows of seating, expansive cargo space, and technology integration of the Chevrolet Suburban is a gem in its class. This SUV was built with a growing family in mind to be able to keep up with a demanding week day schedule and keep the driver happy. Mankato Chevrolet near Faribault offers the Chevrolet Suburban as your family's next SUV because we believe it will meet your needs!
A Truck with Style
The Chevrolet Colorado is offered with either a crew cab or extended cab to fit your needs. One thing it does not run out of is style and performance. You can make a quick trip to the home improvement store or load your vehicle for a camping trip without a second thought. The sales team at Mankato Chevrolet near Faribault is ready to show you how much style can be packed into one light duty truck without sacrificing function.
A Car Built for You
Driving the Chevrolet Cruze down the street gets all the right looks. This vehicle is a great choice because it is stylish and reliable. Standard technology alone is impressive, so find additional options and mak make it your own.  Let Mankato Chevrolet near Faribault put you behind the wheel of your next Chevrolet Cruze.
More Available at Mankato Motors near Faribault

Chevrolet Corvette
Chevrolet Cruze
Chevrolet Equinox
Chevrolet Express Cargo Van
Chevrolet Impala
Chevrolet Malibu
Chevrolet Silverado 1500
Chevrolet Silverado 2500HD
Chevrolet Silverado 3500HD
Chevrolet Sonic
Chevrolet Suburban
Chevrolet Tahoe
Chevrolet Traverse
Chevrolet Trax
Chevrolet Volt