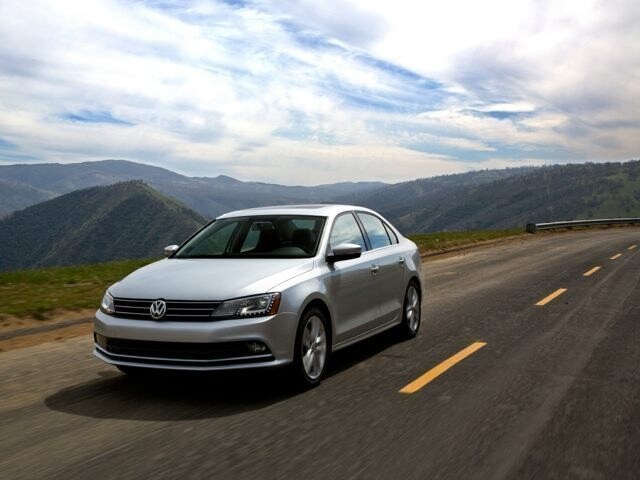 If you are tired of getting the run around while shopping for your next new vehicle, let Mankato Motors show you a better way to shop and buy. From a no pressure sales approach to our one low price, plain and simple, always philosophy, our brand promises to put you in charge of your car shopping and buying experience. When is the last time that you felt in control throughout the entire process? At Mankato Motors, we put you, our customers, first and foremost. That is why we try so hard to earn your business each and everyday, regardless of how many vehicles that you have bought from us in the past. Mankato Motors, the name that you need to know for Volkswagen cars and SUV's near Madelia.
Volkswagen Jetta Near Madelia, MN
At Mankato Motors, we don't settle for substandard, and neither should you. That is why we are proud to offer the 2017 Volkswagen Jetta. This fun to drive and surprisingly affordable compact car gives you the perfect balance of comfort, style, and affordability in a compact package. So if a compact car is in your future, why not make it a 2017 Volkswagen Jetta. Get yours at an MSRP starting price of around $17,895, or upgrade to the model that speaks to you. See the all on the lot of Mankato Motors, where it is always worth the trip for everything Volkswagen.
Volkswagen Passat Near Madelia, MN
If you love the Volkswagen Jetta, but are looking for a little more legroom and horsepower, the 2017 Passat gives you the same great German engineering, with a little more get up and go underneath the hood. The Passat is available with a great range of horsepower offerings from 170 to 280 horsepower so you can get the power that you need at a price that you can afford. Plus, you still get that spacious seating for up to 5 of your family or closest friends to make that next big road trip more comfortable than ever. Find yours at Mandela's home for the 2017 Volkswagen Passat; Mankato Motors.
Volkswagen Atlas Near Madelia, MN
With so many full sized SUVs on the marketplace today, how do you make a splash and get noticed? Easy, you make an SUV that gives you all of the features that you love, great looks, at a price that is much more affordable than the competition. That is exactly what you get with the 2018 Volkswagen Atlas. This remarkable SUV is available for an outstanding MSRP starting price of around $30,500. When is the last time that you had seating for 7 and great features for a price that affordable? Come see for yourself why an Atlas should be in your future at Mankato Motors. Selection, sales, service, and the 2018 Volkswagen Atlas - only at Mankato Motors.
Other Volkswagen Near Madelia, MN
Volkswagen Beetle
Volkswagen CC
Volkswagen Golf
Volkswagen Golf Alltrack
Volkswagen Golf GTI
Volkswagen Golf R
Volkswagen Sportwagen
Volkswagen Tiguan
Volkswagen Touareg
Mankato Motors Also Offers