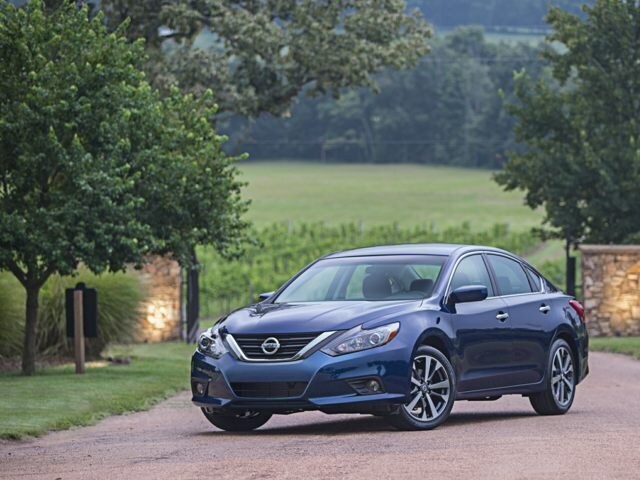 When it comes to finding an auto dealership that gets you, it can be a difficult process. Many dealerships care only about making their next sale, but not all. Mankato Motors is proud to serve their friends, family, and neighbors, and it shows in all that they do. Every step from sales to service, and all along the way, the put your interests first. That is why they were voted the best new and used auto dealership of Mankato in 2016. Come visit with their professional and knowledgeable sales staff and see all they can do for you. Mankato Motors, always a great choice.
Nissan Rogue Near New Richland, MN
The Nissan Rogue proves that a compact SUV can come with attitude. From the first moment you see this remarkable vehicle, you will understand what we mean by that. An aggressive stance and flowing lines will draw you in. The great MSRP starting price of $23,820 and all of the great features will seal the deal for you. The only way to experience this great vehicle is from behind the wheel. Stop by Mankato Motors and take this great vehicle out for a test drive, and you will never look at a compact SUV the same way again.
Nissan Pathfinder Near New Richland, MN
If you love the Rogue, but are looking for a little bit more space, the Nissan Pathfinder is where you want to be. This great full sized SUV gives you all of the great features you love about the Rogue, but in a little bit larger package. The Nissan Pathfinder still comes in at an affordable MSRP price tag of $30,290, even with all of that extra space. See this great SUV in person on the lot of Mankato Motors, and get out on the road in a test drive. Remember, if you live in New Richland, its always worth the trip to Mankato Motors.
Nissan Altima Near New Richland, MN
The 2017 Nissan Altima gives you everything you should expect and love from a mid-sized car with an MSRP starting price of around $22,500, great fuel economy of an EPA estimated 27mpg city and 39 mpg highway, and so much more. You also get great performance from an impressive range of horsepower options from 179 to 270 horsepower. Take the Altima for a test drive and experience all this remarkable vehicle has to offer on the lot of Mankato Motors today.
Other Nissan Near New Richland, MN
Nissan Versa
Nissan Sentra
Nissan Cube
Nissan Maxima
Nissan Murano
Nissan Juke
Nissan Xterra
Nissan Armada
Nissan Frontier
Nissan Quest
Nissan Titan
Mankato Motors Also Offers