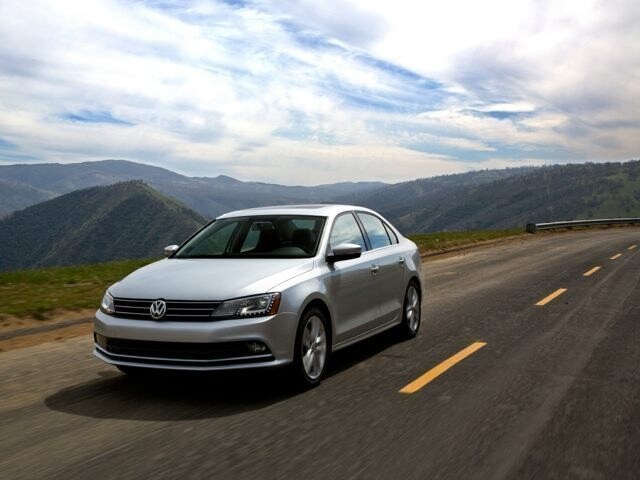 If you are looking for an outstanding new or used vehicle near St. Peter, then the name that you need to know is Mankato Motors. Every time you step through the doors at Mankato Motors, you get the same great experience and an outstanding selection of the most affordable and highest quality vehicles around. When it comes to the entire 2017 line up of Volkswagen vehicles, no one outdoes Mankato Motors. Come see for yourself why they were voted Mankato's best new and used car dealership of 2017. Each and everyday they go the extra mile for you whether you are looking for a new or used vehicle, we have you covered.
Volkswagen Jetta Near St. Peter, MN
It is hard to beat the 2017 Volkswagen Jetta for pure drivability and economy. With an outstanding EPA estimated fuel economy of 28 mpg city and 40 mpg highway, you can spend less of your hard earned money at the pump and more time on the road. Add in an affordable MSRP starting price of around $17,895, and you have the perfect compact car for anyone that loves to save money while they drive. Come test drive your new Jetta today on the lot of Mankato Motors, you are going to love this place and love this car.
Volkswagen Passat Near St. Peter, MN
For those times when you need more space than you can get out of a subcompact or compact car, the Volkswagen Passat gives you great style and comfort in a mid-sized sedan. But don't worry, you still get that great German engineering and style that you love from all Volkswagen vehicles. So if you are ready to get more space and more value out of your ride, why not do it in a Passat? Come find your automotive soul mate on the lot of Mankato Motors. Selection, sales, and service, you can get it all here including the 2017 Volkswagen Passat.
Volkswagen Atlas Near St. Peter, MN
If you are looking for a different and much better take on the full sized SUV, then Volkswagen has something that you are going to want to check out. The 2018 Volkswagen Atlas has something for everyone. From an outstanding warranty, great features, and an affordable price tag, the Atlas is dressed to impress. Come experience it for yourself on St. Peter;s home for the 2018 Volkswagen Atlas, Mankato Motors. Outstanding selection, outstanding service, unbeatable prices you get it all at Mankato Motors each and every time that you step through the door. Give us a call and schedule your test drive today.
Other Volkswagen Near St. Peter, MN
Volkswagen Beetle
Volkswagen CC
Volkswagen Golf
Volkswagen Golf Alltrack
Volkswagen Golf GTI
Volkswagen Golf R
Volkswagen Sportwagen
Volkswagen Tiguan
Volkswagen Touareg
Mankato Motors Also Offers