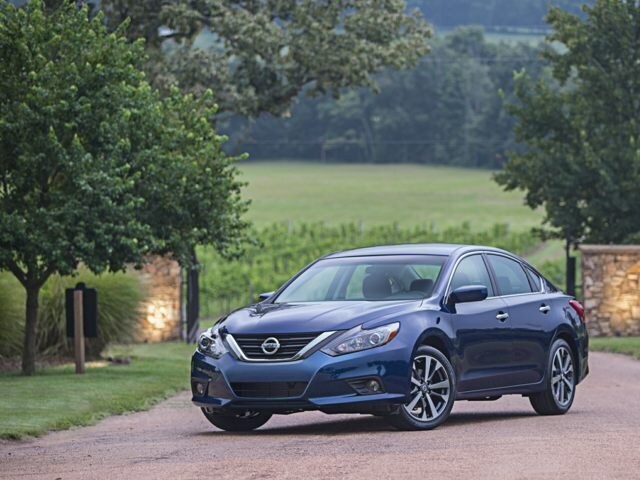 If you are looking for a great place to buy a new or pre-owned Nissan car, truck, or SUV, then the place you want to go is Mankato Motors. They were voted the best new and used car dealer of Mankato. With a reputation like that, they have to be doing something right. Stop by and see why more people choose Mankato Motors for their next new or used Nissan vehicle. Remember, it is always worth the trip to from St. Peter to work with the best around. Mankato Motors, always a great choice.
Nissan Rogue Near St. Peter, MN
If you are looking for a compact SUV with a big attitude, the 2017 Nissan Rogue is the perfect SUV for you. Get all of that outstanding Nissan Style in one compact package. Plenty of seating for the whole family, with seating for up to five, and plenty of storage for your gear as well. Plus at a highly affordable MSRP starting price of around $23,820, it might be closer to your budget then you had thought. See the Rogue in all of its glory at Mankato Motors and schedule your next test drive today.
Nissan Pathfinder Near St. Peter, MN
For those of you that like to get off the beaten path, the Nissan Pathfinder is ready to go. This amazing SUV not only gives you that signature styling, but gives you the ability to get of the pavement, and onto those back roads the next time you are itching for an adventure. Great features like best in class maximum standard towing, highly efficient EPA estimated 23 mpg combined fuel economy, and so much more, you can't go wrong when it comes to a Nissan Pathfinder from Mankato Motors.
Nissan Altima Near St. Peter, MN
If you are more of a mid-sized car person, have no fear, Nissan and Mankato Motors have you covered there as well. The Nissan Altima gives you everything that you want from a great car. Excellent fuel economy, affordability, and the dependability that you need when it comes from a daily commuter. Whether you are traveling across town or cross country you can do it in style in the Nissan Altima. Stop by Mankato Motors and see all that this great vehicle has to offer the next time you are in Mankato.
Other Nissan Near St. Peter, MN
Nissan Versa
Nissan Sentra
Nissan Cube
Nissan Maxima
Nissan Murano
Nissan Juke
Nissan Xterra
Nissan Armada
Nissan Frontier
Nissan Quest
Nissan Titan
Mankato Motors Also Offers