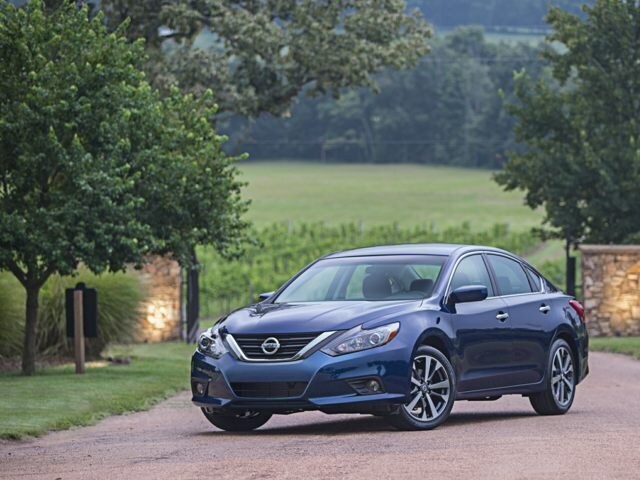 Mankato Motors of Mankato, Minnesota is one of those rare automotive dealerships that give you exactly what is advertised each and every time. They have the knowledgeable, experienced, and highly professional staff that give you that relaxed car shopping environment that gives you peace of mind to know that you can shop your perfect car, truck, or SUV without feeling stressed and overwhelmed. See why more people go to Mankato Motors for their next new vehicle, and skip the wasted time of shopping elsewhere. Mankato Motors, always a great choice.
Nissan Rogue Near Waseca, MN
While many people are fine with settling, the Nissan Rogue would like you to consider otherwise. This great compact SUV offering from Nissan gives you plenty to fawn over when compared to its competition. Experience great standard and optional features like the EZ-Flex seating system, Nissan's divide n hide cargo system, and so much more. See all of these great features at Mankato Motors when you experience all the 2017 Rogue has to offer for yourself.
Nissan Pathfinder Near Waseca, MN
If you are the type of person that likes to get out and have an adventure after the workday is done, the Nissan Pathfinder is right up your alley. This innovative SUV gives you seating for up to seven people, an affordable MSRP starting at $30,290, great EPA estimated fuel economy of 20mpg city and 27 mpg highway, and so much more. Schedule your test drive with Mankato Motors, and get behind the wheel of a brand new Nissan Rogue. When you shop Nissan and Mankato Motors, you are shopping a winning combination.
Nissan Altima Near Waseca, MN
For some people, you just can't beat a great mid-sized car for fuel economy and performance. When it comes to both of these critical areas, the 2017 Nissan Altima simply does not disappoint. Get a great fuel economy of 27 mpg city and 39 mpg highway; along with a great range of horsepower options ranging from 179 to 270 hp. Experience this and all of the other great features of the 2017 Nissan Altima the next time you are in Mankato, only at Mankato's home of Nissan, Mankato Motors.
Other Nissan Near Waseca, MN
Nissan Versa
Nissan Sentra
Nissan Cube
Nissan Maxima
Nissan Murano
Nissan Juke
Nissan Xterra
Nissan Armada
Nissan Frontier
Nissan Quest
Nissan Titan
Mankato Motors Also Offers