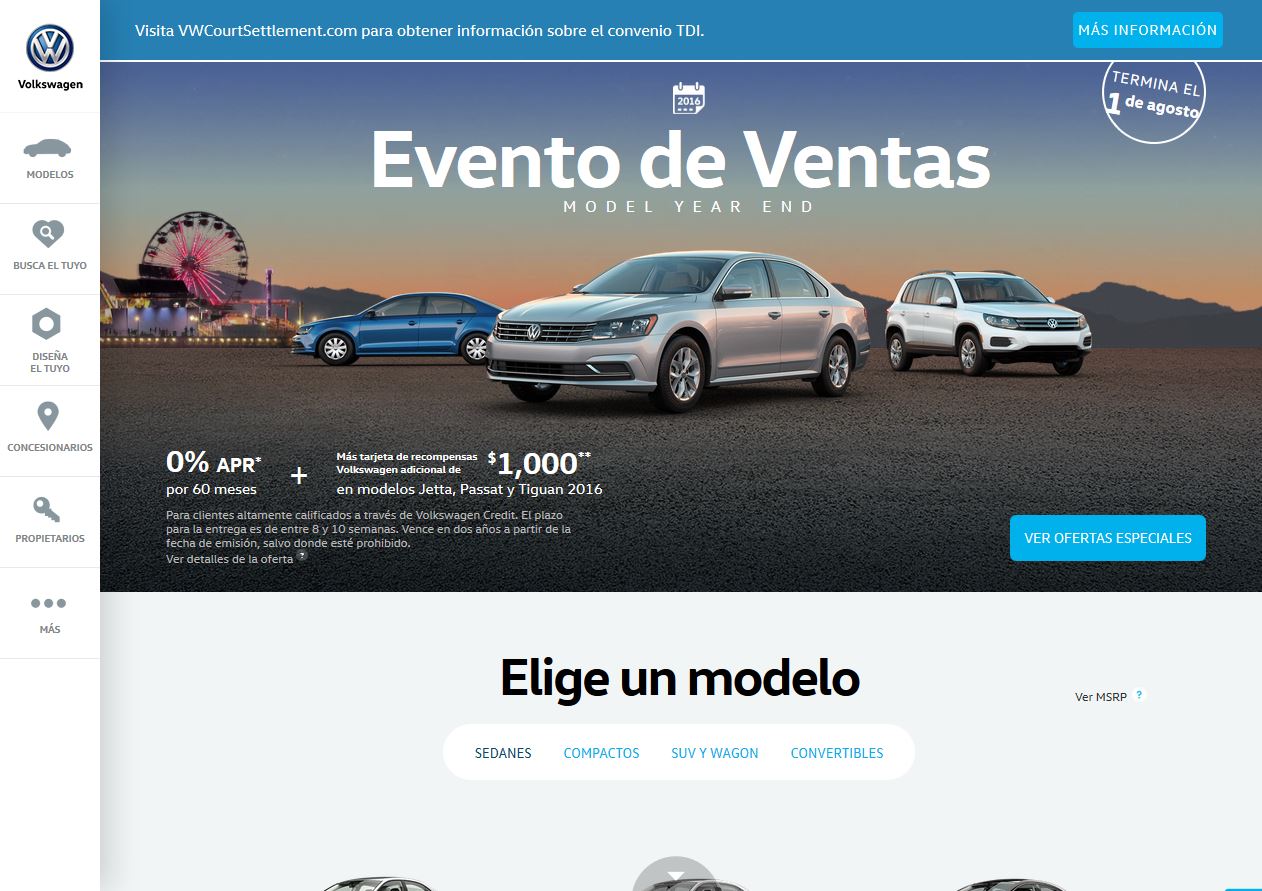 Available across desktops, tablets and mobile devices, the new online offering provides an enhanced shopping experience with information and tools tailored for Spanish speakers
Herndon, VA — Volkswagen of America, Inc. today announced the launch of www.vw.com/es/, an enhanced online experience designed specifically for the brand's Spanish speaking customers. The new, Spanish version of VW.com will provide consumers a comprehensive online learning and shopping destination to experience the Volkswagen brand.
The platform is compatible across desktop, tablet, and mobile devices, and provides a fully customized Spanish language experience. On www.vw.com/es/, customers can easily research Volkswagen's full range of product offerings, access shopping tools to customize vehicles according to trim line, and enter a live chat to seek more information from a Spanish speaking dealer or customer care representative.
"The goal of the site is to provide broader access to the Volkswagen experience and deliver brand information and tools in formats that are most useful to our consumers," said Vinay Shahani, Vice President, Marketing, Volkswagen of America, Inc."Spanish speakers are an incredibly important part of our customer base and we continue to evolve the online experience to allow VW customers to learn more about the brand and experience the full line of vehicles across multiple platforms."
Beyond offering a robust shopping experience, the enhanced online platform seeks to engage new and current audiences by providing a myriad of brand related information including vehicle details and specifications, a dealer locator tool, inventory search, and current offers and services. The digital platform is the latest addition to Volkswagen's content portfolio aimed at Spanish-speaking consumers, as the company continues to work towards expanding its customer base in the United States.
For more information, visit www.vw.com/es/.