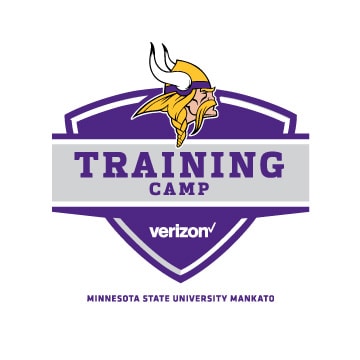 Calling All Vikings Fans....
Vikings Training Camp is almost here! The Vikings will be filing into Mankato for a 51st season to prepare for the 2016 NFL Football Season. This season will contain even more excitement and reason to swing over to the Minnesota State to catch your favorite team. Training Camp is located on the Minnesota State - Mankato University Campus. Folks file in from all over the US to come see the Purple and Gold. The Vikings will enter this seasons play in the Brand New $1 Billion stadium coming off a NFC North Championship.
List of important Training Camp Dates:
July 28th - Move in Welcome Event
Vikings fans are invited to welcome the Vikings as they arrive to the campus of Minnesota State University, Mankato in front of the Julia A. Sears Residence Community. Event will have prizes and music from HOT 96.7 Mankato

Event Free
?

July 30th - Vikings Women's Day
The Vikings Women are teaming up with MATTER boxing meals for those less fortunate. Goal is to do 1000 boxes and with all our area Mankato Area Vikings Women Fan's we will meet it. Plus, the first 500 fans to package a meal box will receive an exclusive Vikings Women gift! Located in the Vikings Village

Event Free

Also a VIP Women's Event on this day - visit

www.regonline.com/womenatcamp
?August 4th - Movie Night
First Ever Vikings Movie Night located in the Vikings Village. Bring the kids, bring the blankets, kick back and relax watching a fan favorite movie.

Event Free
?August 6th - Football and Fireworks
Evening practice session at Blakeslee Field followed by player introductions

?

Lucky fans will be able to catch mini-footballs autographed by Vikings players

Fireworks following player intro's

Event Free
?August 8th - Fan Appreciation Day
Last chance to see the Vikings Training Camp Practice

Ton's of prizes, giveaways, kids activities and autographs

Event Free
?For more information visit the Vikings Online

While you are in Mankato for Vikings Training Camp, visit Mankato Motors for all your automotive needs including: tires, oil change, engine repair, brakes, body shop, collision repair, and much more.....Mankato Motors has been Mankato's #1 voted dealer year and year including 2016. Mankato Motors is part of the Rydell Auto Group of 70 plus dealers and is locally owned by a proud Vikings Season Ticket Holder.
?