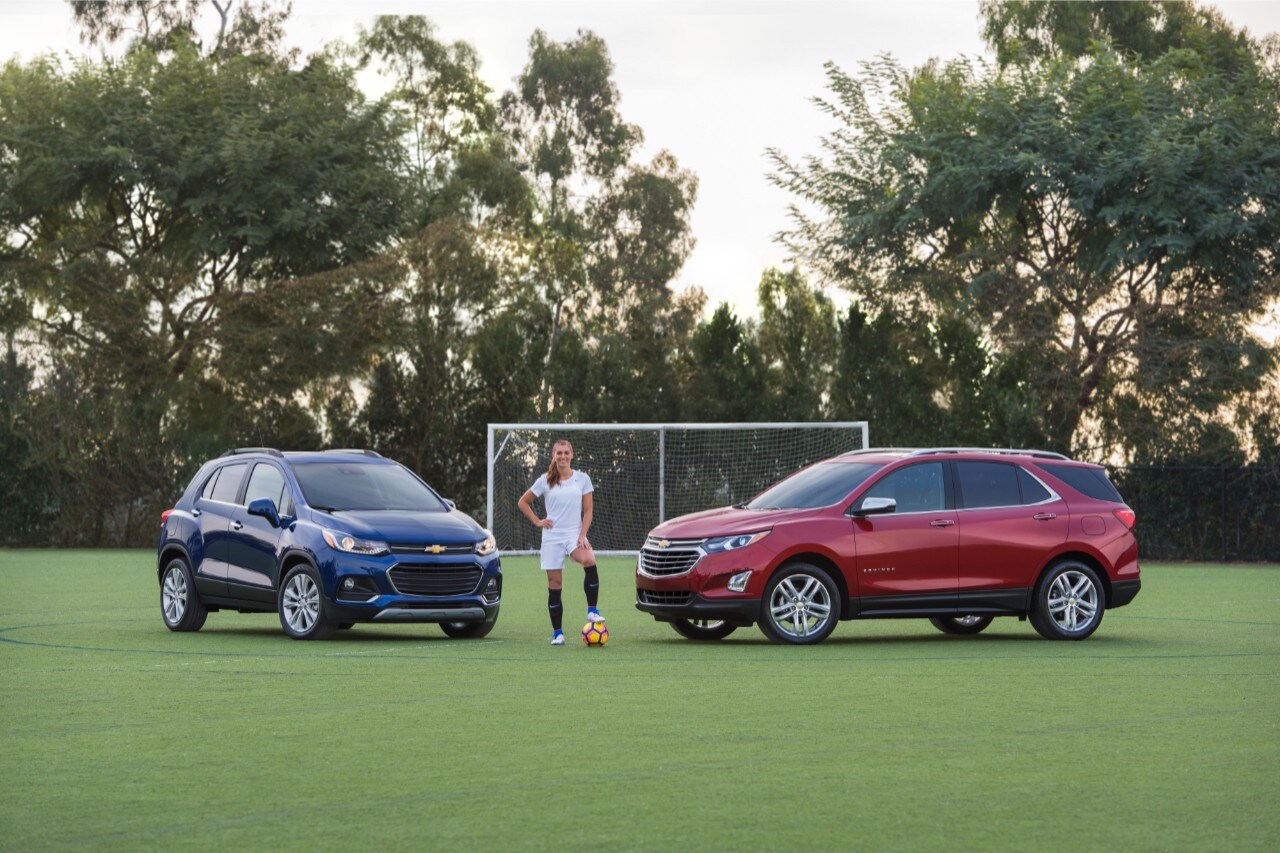 Chevrolet has enlisted the help of two world-class athletes to support the brand's youth sports programs around the country. Andrew McCutchen, MLB All-Star and outfielder for the Pittsburgh Pirates, will work with the brand on its Youth Baseball initiatives and Alex Morgan, gold medalist and soccer champion, will help the brand grow its youth soccer programs.
"At Chevrolet, we celebrate the power of play and the positive effect it has on kids, families and communities," said Paul Edwards, U.S. vice president of Chevrolet Marketing. "Partnering with Andrew McCutchen and Alex Morgan allows us to share their expertise and passion for their individual sports and demonstrate to children everywhere that with perseverance and dedication anything is possible."
Chevy Youth Baseball
Since 2006, Chevrolet, in partnership with its dealers, has been supporting baseball and softball at the youth level in communities across the country through Chevy Youth Baseball, a grassroots, community outreach program. Mankato Motors has helped various different local organizations in both Baseball and Softball.
Participating youth baseball and softball leagues receive equipment and sponsorship checks from Chevrolet, as well as unique Major and Minor League Baseball experiences such as exclusive instructional clinics. In the last 11 years, Chevy Youth Baseball has donated more than 135,000 equipment kits, renovated 9,400 parks and impacted more than 6.7 million boys and girls across the U.S.
"I have so many great memories playing little league ball – from hitting my first home run to just being together with my friends – experiences that taught me to love the game," said McCutchen, the 2013 National League MVP. "I am thankful that I was able to achieve my dream and am excited to support Chevy Youth Baseball so that more of the dedicated and talented youth around the country have the same support and opportunity to make it to the big leagues."
Chevrolet will once again sponsor Major League Baseball's PLAY BALL initiative, a collaborative effort between MLB, USA Baseball and USA Softball to encourage participation in all forms of baseball and softball.
Chevy Youth Soccer
Since 2010, Chevrolet, in partnership with its dealers, has also been supporting soccer at the youth level in communities across the country through Chevy Youth Soccer, a grassroots, community outreach program.
Participating youth soccer leagues receive equipment and access to instructional clinics. In the last six years, Chevy Youth Soccer has donated more than 6,200 equipment kits, provided free instruction on soccer fundamentals to more than 600,000 students and impacted more than 5 million kids across the U.S.
"Youth sports were a huge part of my life and really helped shape who I am today," Morgan said. "I know how much work goes into chasing your dream and I was so lucky to have the support of my family and community. That is why I am thrilled to be able to support so many young people through Chevy Youth Soccer as they chase their dreams on the field."
ABOUT CHEVROLET
Founded in 1911 in Detroit, Chevrolet is now one of the world's largest car brands, doing business in more than 115 countries and selling more than 4.0 million cars and trucks a year. Chevrolet provides customers with fuel-efficient vehicles that feature engaging performance, design that makes the heart beat, passive and active safety features and easy-to-use technology, all at a value. More information on Chevrolet models can be found at www.chevrolet.com.