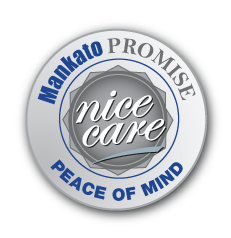 YOU CAN'T BUY THE WRONG VEHICLE FROM US
7 day money back guarantee on most pre-owned vehicles: Bring it back in the same condition it was in when purchased and get a full refund. No questions asked.
30 day exchange available on most pre-owned vehicles: Return your purchase within 30 days and receive the full purchase price towards any vehicle on the lot.
3 months, 3,000 mile drivetrain warranty on most pre-owned vehicles.
*Policy applicable for 3day/500 miles on most New vehicles. 7/30 day on Used vehicles under 7yrs or newer and vehicles under 75k miles or less. Exchange policy 1000 miles or less during the 30 day period. Excludes specialty vehicles including: high performance, electric, hybrid and commercial. See Mankato Motors for full details.