Mankato Motors Our Promise To You
 
One Low Price, Plain & Simple, Always. 



We've listened to you and know what people don't like about traditional dealerships. Which is why we do things differently. We believe price should be based off of integrity, not negotiation. That's why we offer our Best Price (just one price) upfront on every single vehicle on our lot and online, so you don't have to work for it.



SHOP INVENTORY
A Relaxed Shopping Experience

Our non-commissioned sales staff will guide you into making a wise choice in a no-pressure environment. In fact, they're paid on how satisfied you are, not how much you spend on a vehicle.

MEET OUR TEAM
  
  
 The Right Vehicle To Fit Your Needs

Having many vehicle options for you is the standard we set to achieve. Various levels of reconditioning are performed on each vehicle according to its need, and that information is always accessible to you! We're inventory experts - that's why we stock the right type of vehicles, at the right time, at the best value for your money.

SHOP INVENTORY
 You Can't Buy The Wrong Vehicle From Us

 If you're not satisfied, we're not satisfied. That's why we offer a 7-day money back guarantee as well as a 30-day exchange on most pre-owned vehicles. Which means that all you have to do is bring it back in the same condition it was in when purchased and get a full refund or money towards your exchange.*



*Excludes value lot vehicles. Must return in same condition it was in when purchased. Vehicle must not have been driven more than 500 miles to qualify for money back guarantee, and 1000 miles for exchange. Non transferrable - original owner only. ANY smoking in vehicle voids all guarantees and exchanges. Additional exclusions apply. See dealer for details.




SHOP INVENTORY
  
  
Real Cash Value For Your Trade

We believe the value of your car should be based on true market value, not the vehicle you intend to buy - and your trade is worth the same, no matter which vehicle you decide to purchase. (No funny and confusing numbers games)

FIND NEW VEHICLE
 FINANCIAL SERVICES FOR TODAY & YOUR FUTURE

We offer choices. We customize each and every vehicle transaction based on giving you options. We want to you be in a good position today and for the future. Our goal is to retain customers for life.

START CREDIT APPLICATION



  
  
Dependable Service To Meet Your Schedule

Sure, we service and sell cars. But first, we take care of people - and we know you are busier than ever before. That's why our highly-trained service team is here to help you with full maintenance and repairs on all makes and models when you need them - even on Saturdays.

SCHEDULE SERVICE



Welcome to Mankato Motors
Mankato Motors - Chevrolet, Nissan, and Volkswagen Dealership in Mankato, MN 56001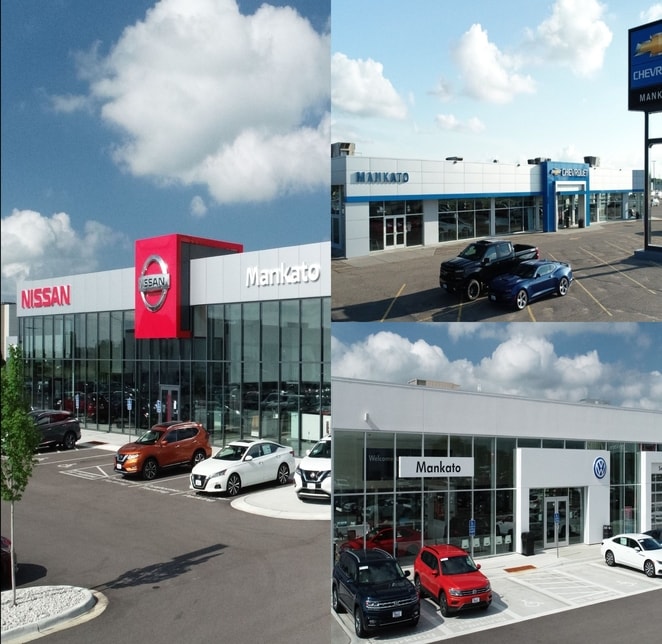 Voted Best of Mankato 
Best New Car Dealer since 2013
Best Used Car Dealer since 2015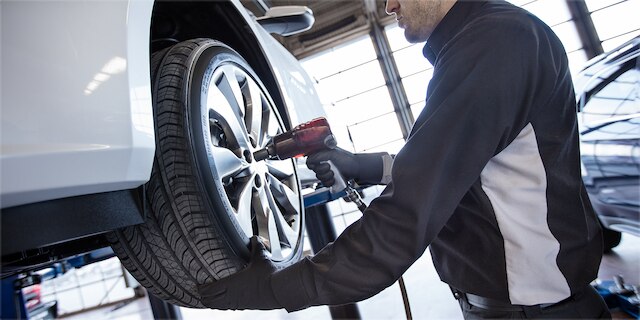 Mankato Chevrolet Dealership
    Still located at our 1815 Madison Avenue location. That simple process of finding your vehicles, completing the paperwork and scheduling a pickup date goes for our Mankato Chevrolet dealership, too.  You can browse our selection of Silverado, Suburban, Tahoe, Tax, Traverse, Equinox, Malibu, Bolt, Corvette and many others...pick the one you like, contact us and go through the process. We are adept at both email and phone calls, so feel free to contact us by your preferred method. Let our Mankato Dealership help you find your next Silverado! 
Mankato Nissan Dealership
    You probably guessed this already, but we have the same "Best Price" philosophy at our Nissan dealership at 2031 Fern Lake Road.  Nissan has a wide variety of cars, trucks and SUVs to choose from, so please explore our Murano, Rogue, Pathfinder, Rogue Sport, Altima, Maxima, Sentra, Versa, Leaf, Titan vehicles.  If you have a specific question about one of our Nissan vehicles you can simply give us a call.  Our team believes in being transparent and helpful, and we will answer your questions. 
Mankato Volkswagen Dealership
    At our Mankato VW dealership now located at 2021 Fern Lake Road in Mankato we feature all of your favorite new VW models, including the Tiguan, Atlas, Jetta, Passat, Golf, GLI, and more.  While we are located in Mankato, we frequently assist people looking for Volkswagen all over Minnesota, Iowa, Wisconsin and the Dakota's.  Since you don't have to negotiate the price on our vehicles thanks     to our "Best Price" philosophy, you can easily work with us without having to waste a trip.  You can pick out the vehicle you want, fill out the paperwork, work with us on financing and simply schedule a time to pick it up. 
Used Cars for Sale at Mankato Motors
    That same best price philosophy is also on our used cars in Mankato.  Our team examines the current market price of each of our vehicles, and makes sure that we are very competitively priced.  You see, the "Best Price" philosophy doesn't mean that we are stubborn; it means that we price our vehicles at the appropriate market price.  Now, this isn't as easy as looking at competitive prices, and matching them.  We combine our experience in selling thousands of vehicles, examine the market and determine the real market value of that vehicle.  Simply put, you won't have to negotiate the price on our pre-owned vehicles because we already did it for you.  Come see us!   

Auto Repair in Mankato, MN
    At Mankato Motors, the Mankato Chevrolet, Nissan and Volkswagen dealership, we don't just sell vehicles.  We also have a great parts and repair facility.  We make getting auto repairs in Mankato easy with our online scheduler.  You can fill out your vehicle info, and schedule an     appointment without having to say a word.  You can also take any of your cars, trucks or SUVs to us because we service all makes and models, and can do so with OEM parts.  While aftermarket parts may work with some vehicles, it is almost always safer, and more reliable, to use an OEM part.  They designed the part to exact specifications, and to work with your exact vehicle.  If you are looking for general maintenance, then we also have you covered.  We offer no-appointment needed oil changes in Mankato, as well as tires, brakes, alignment and auto body shop.
    In addition to our auto repair facility in Mankato, we also have an auto body center.  Our auto body center provides bodywork for all makes and models, including Chevrolet, Volkswagen and Nissan.  We can help you with auto glass repair, scuffs and dings in the body, as well as full body repairs from accidents and mishaps. 
3 Locations to serve all your auto repair needs - Mankato Chevrolet 1815 Madison Avenue, Mankato Volkswagen 2021 Fern Lake Road and Mankato Nissan 2031 Fern Lake Road.